NEVER ENOUGH LEASHES – COLLARS – COLORS – DOGS, … vul maar aan! Ons merk heeft niet alleen een hart voor dieren, maar ook duurzaamheid, lokaal ondernemen, lifestyle en fashion. Lees alles over onze hals-en leibanden, concept en visie deze blog!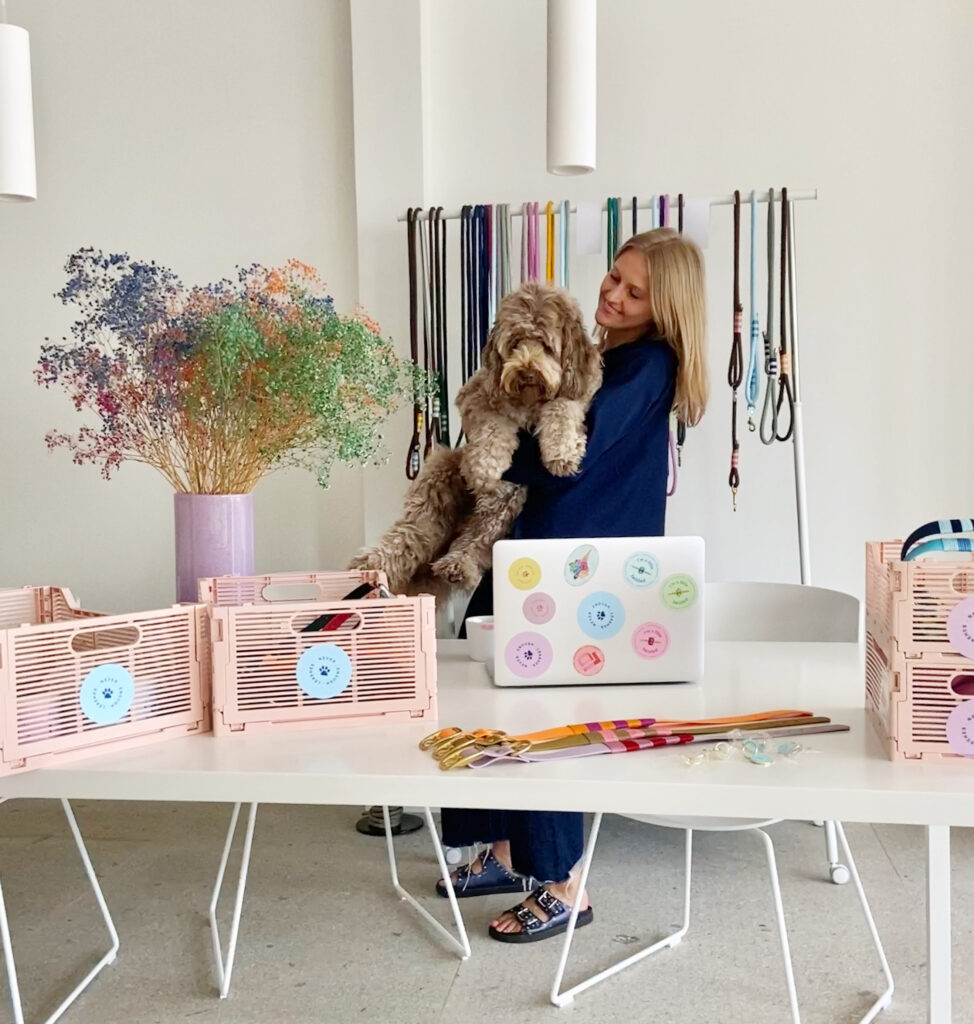 Ons team bestaat uit Mila, een Australische Labradoodle en Nina. Mila staat in als topmodel en voert de kwaliteitscontrole van onze handgemaakte hals-en leibanden!
Nina richtte in 2020 Never Enough Leashes op als student-zelfstandige. Vandaag werkt zij full-time als Marketing Consultant en combineert ze deze activiteit in bijberoep. Creativiteit houdt haar dag in – dag uit bezig en dat uit ze ook in haar schilderijen die ze maakt onder @madebyniniziu . De mix 'n match van unieke en vrolijke kleurcombinaties werd al snel het kenmerk van Never Enough Leashes.
Never Enough Leashes spreekt voor zich, je kan nooit genoeg leibanden hebben voor je hond. Sinds 2021 maken we ook halsbanden want die konden uiteraard niet ontbreken. Nina is verzot op de laatste mode, fashion, lifestyle en interieurtrends en heeft voor elke outfit of gelegenheid een set voor haar hond Mila klaar. Happy colors – happy vibes is dan ook ons motto!
Je kan de kleuren zelf samenstellen en combineren tot een uniek, luxueus, fashion item voor jouw huisdier! We bieden verschillende kleuren aan zodat iedereen zijn persoonlijke leiband en halsband kan samenstellen. De eindeloze kleurcombinaties maken dat je een accessoire hebt voor elk moment van de dag, week, seizoen of jaar. Shop of creëer jouw eigen leiband or halsband hier.
Alle leibanden en halsbanden worden handgemaakt in Antwerpen. We garanderen de beste kwaliteit met een coole, trendy en hippe afwerking. Dat maakt dat we ons als lokale onderneming ook focussen op duurzaamheid. When you buy from a small, local and sustainable business, an actual person does a happy dance!
Onze leashes & collars zijn geschikt voor kleine en grote honden. Wil je meer weten over onze hals- en leibanden? Klik dan hier of contacteer ons voor persoonlijk advies!