In deze blogpost informeren we je graag over de kwaliteit, de maten, lengtes en alles wat je moet weten over onze handgemaakte hals-en leibanden!
De leibanden van Never Enough Leashes worden gekenmerkt door een gekleurd touw als basis, afgewerkt met een gestreept detail in twee kleuren. Het gebruikte materiaal is polypropyleen. Dit materiaal is niet enkel licht en soepel maar ook duurzaam en onderhoudsvriendelijk! De leibanden zijn geschikt voor grote puppy's (rassen zoals: golden retrievers, labradors, Weimaraner, etc.), voor kleinere rassen vanaf +-6 maanden als voor volgroeide honden.
Wil jij ook zo'n uniek, kleurrijk en fashionable accessoire voor je hond? Shop of personaliseer en creëer jouw eigen halsband of leiband!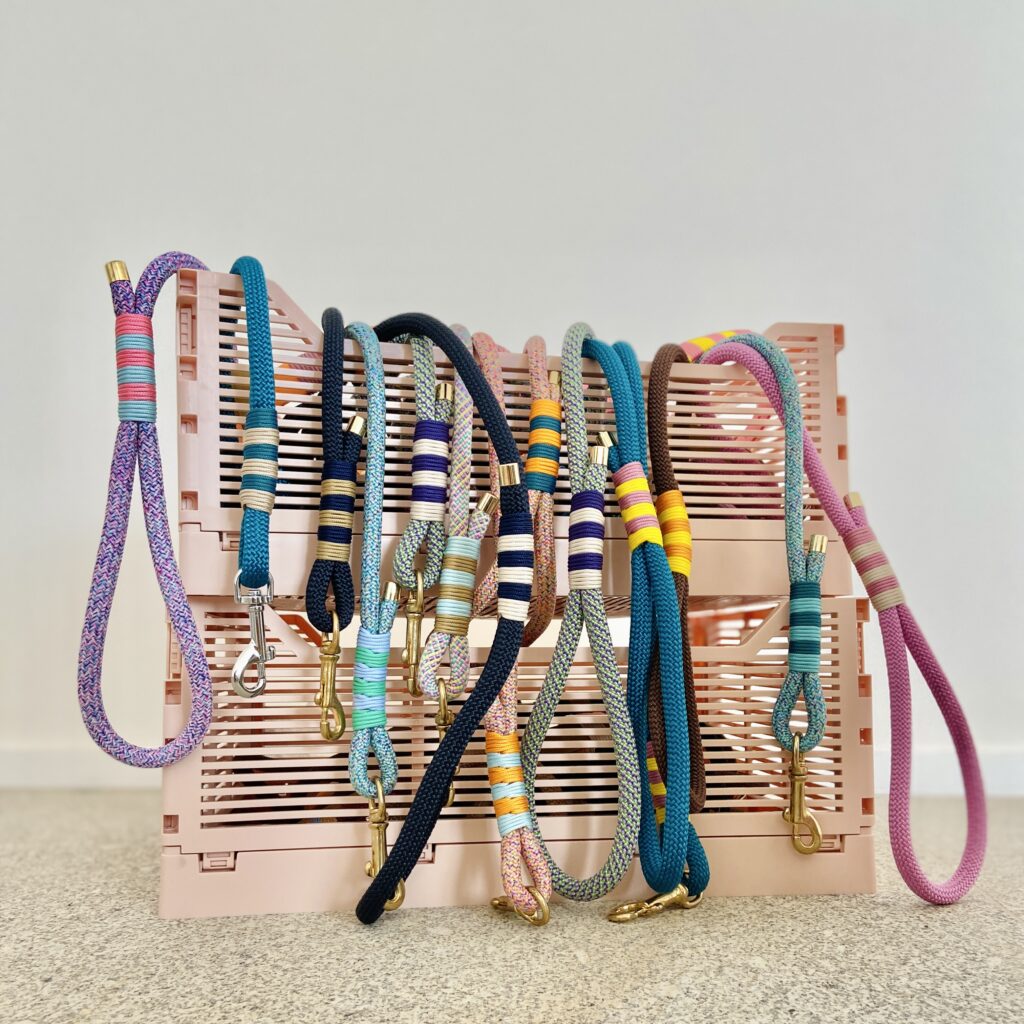 We bieden drie lengtes aan, namelijk: 120, 140 of 160cm. Bij het kiezen van een ideale lengte kunnen verschillende factoren meespelen: De eerste is hoeveel ruimte je jouw hond wenst te geven. Indien jouw hond graag snuffelt, adviseren we de langste lengte. Indien je jouw hond liever op een korte afstand houdt dan raden we de lijn van 120cm aan.
Hoe korter de leiband, hoe korter de afstand tussen het baasje en de hond. Daarom raden we aan om voor puppies en kleine honden een langere lijn van 140 of 160cm te nemen.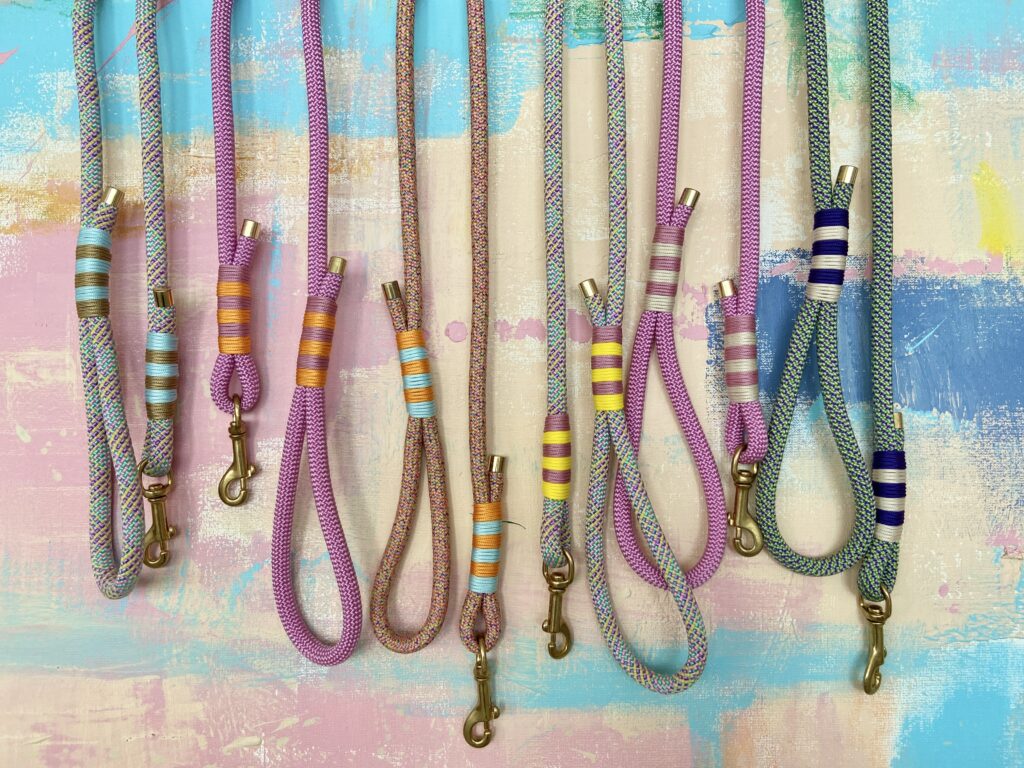 Vervolgens geven wij graag ons persoonlijk advies. Als je een klein hondje hebt, betekent het niet dat je daarom de kleinste afmeting moet nemen. Hoe kleiner het hondje, hoe lager het bij de grond komt dus een langere lijn is aangeraden. Je kan onze lijnen altijd een keertje om de pols slaan om ze een stukje korter te houden. 
Onze halsbanden worden gemaakt uit een katoen dat omhult is door PTU of PVC. Dit maakt het materiaal waterproof en onderhoudsvriendelijk. Onze kleurselectie is gebaseerd op de leibanden uit onze collectie: mix & match jouw combinatie!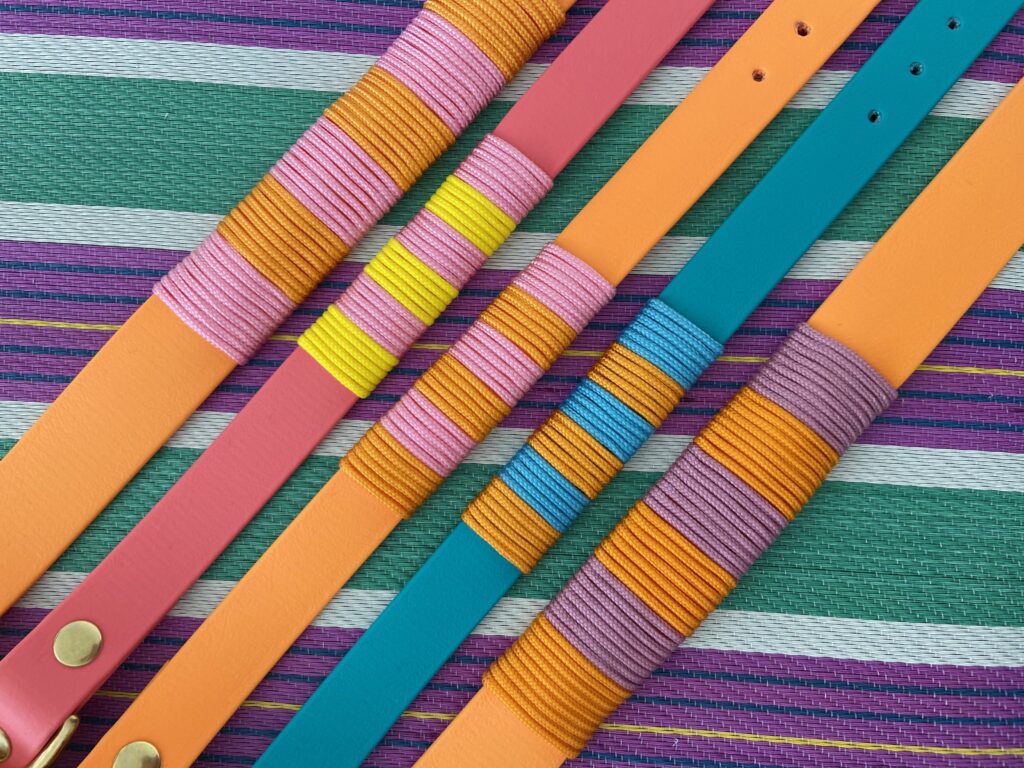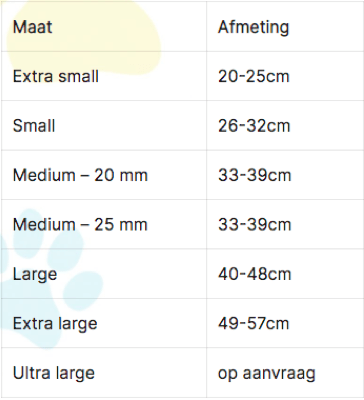 De maten voor onze halsbanden zijn gestandaardiseerd in een tabel. We raden aan om de nekomtrek zelf te meten omdat er binnen elk ras verschillende groottes zijn. De maattabel geeft het eerste en het laatste gaatje weer van onze halsbanden.
Heb je al een halsband en is het tijd voor een nieuwe? Dan kan je de halsband op een meetlat leggen om te kijken met hoeveel cm de gaatjes overeen komen.